Equus Nobilis
by Landscape Architects who are also Equestrians
Portfolio
Often our design vision comes from the most unbridled inspiration
We not only create functional equestrian estates, we masterfully design beautiful equestrian experiences.
This 35 acre farm in the Silicon Valley was a project for a wonderful family who had roots in the East Coast. They wanted to create a Cape Cod-style home and tie the equestrian facilities to the garden while creating a garden equestrian farm. The clients were convinced to do the dark fencing which looks like something you would see in the hills of Kentucky.
The driveways were lined with beautiful trees which now form a tunnel. The riding arena has been landscape around so you have a beautiful experience while you're riding as well as trails that link the lower functional equestrian facility to the garden. Cross-ties were added adjacent to the front door of the main residence so that a groom can bring a horse up from the lower facilities and the clients can ride directly from the house through the beautiful garden trails. Zeterre has been working on this project for over 10 years. It is finally coming to a close and has been a great success.
Private Polo Estate - Palm Springs - Indio
25-acre private polo estate in Eldorado adjacent to Empire Polo Field in Indio, CA.
It features not only polo grounds and barns, but also a dressage arena, paddocks and thoughtfully designed trails all around the property
This 5-acre Ranch had existing equestrian facilities which we are tying into the new garden. We were allowed to create a beautiful hedged lunging area that's incorporated into the design of the vegetable garden and entertaining area. This area doubles as a place where they can put a circular tent for when they have large events. Much thought was given to the layout of the garden so that their clients can ride horses through their garden and link into the neighborhood trails as well.
Our team was brought onto this project near Blackhawk to create a cohesive plan to tie into the neighboring equestrian facilities so that the garden and house have with a cohesive feel with the facilities.
We created a lunging area for the horses in the middle of a garden as well as created a really beautiful trailer turn-around that acts as a motor court for the main residence. We were also able to link into the riding trails of the town as well as create a riding trail around the estate.
The Team
Renowned for extremely creative design, our fun team of landscape architects enjoy creating unique, exclusive gardens and estates throughout the world.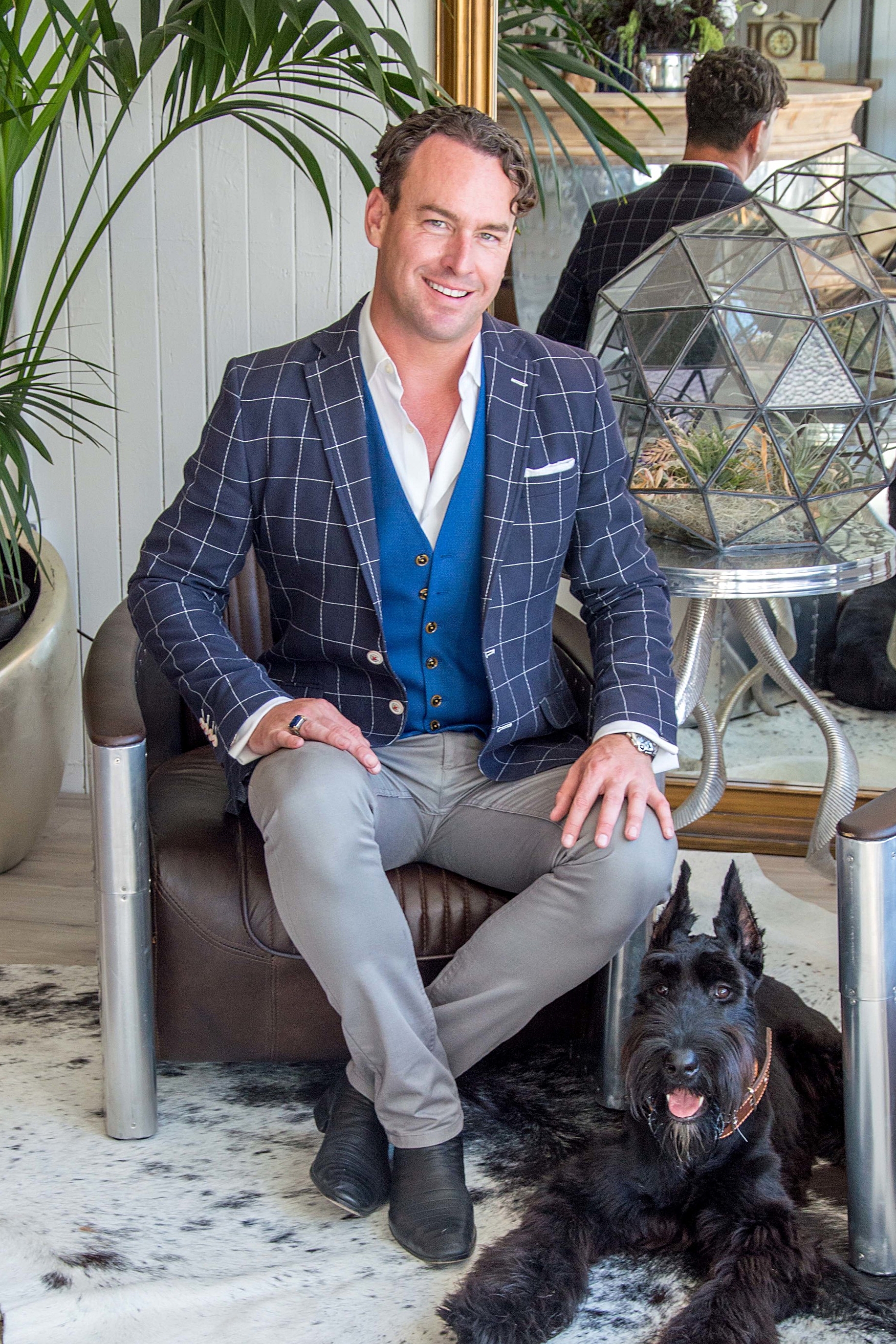 Principal of Design
Landscape Architect
Jarrod Ryan Baumann
Jarrod grew up on an 800 acre ranch near Yosemite, trail riding across the family lands and exploring California's vast oak woodlands. In his 20's Jarrod took up classical dressage studying under a cadre noir trained instructor. In his 30's he joined the polo battlefield after jumping on his first mount in Argentina and falling in love with the sport. Jarrod draws upon his 20 years of experience developing projects ranging from jewel box cottage gardens to expansive estates, massive civic parks and boutique luxury resorts. His work has gained national and international acclaim with projects completed throughout the United States, Europe and Asia. His work has been published in countless magazines and books. While formally educated in Landscape Architecture at California Polytechnic University, Jarrod has continued his education over the past 15 years through consistent yearly travels back to study masterful gardens and art in Europe and Asia. His greatest inspiration comes from the gardens he frequents around Lakes Maggiore and Como, as well as Lotusland Garden and Estate in Montecito.
Project Manager
Will Saltenberger
Will grew up with horses at an early age starting with his time in the Cub Scouts. During his formative years he often derived great enjoyment in watching the wild horses from afar which grew up where he lived. Will has over eight years experience working on projects all over the Bay Area, Northern California, and Hawaii. He earned his bachelor of landscape architecture from CalPoly SLO in 2006 and has since worked on and managed a large list of projects of varying sizes and scope focusing on high-end residential with some public and private works mixed in. Project work includes award winning LEED rated projects, for which will is accredited, and he strives to incorporate responsible practices into his work when there is opportunity. Will has an extensive knowledge of the technical aspects of a design that is needed to see a project realized from conceptual design through to the completion of construction.
Project Manager
Toni Kramer
Toni spent much of her school days and many summers riding several times a week. In college she participated in both the dressage and jumping teams. She primarily has experience riding in France and the East Coast of the United States. Toni has professional degrees in both architecture and landscape architecture from the University of Oregon, an undergraduate background in art and over 25 years of experience in the design field. Her work has encompassed a variety of project types and scales from residential landscape design to urban design, master planning and architectural projects. Most recently her work has focused on high end residential projects in the Bay Area. These projects have ranged from smaller urban gardens to large estates on the Peninsula and in Napa Valley. Toni has traveled widely in Europe and Southeast Asia and enjoys the opportunity to integrate these experiences with her design work. Toni enjoys the collaborative design process of working with clients, the design team and contractors, from the initial design phase through construction to bring a project to fruition in the final built form.
Project Manager
Elyssia Atkins
Elyssia grew up with a love of horses from an early age. She grew up on a farm in Illinois and both of her parents came from equestrian families. Elyssia has earned her bachelor of Landscape Architecture degree from the University of Illinois-Urbana-Champaign in 2009. After graduation she moved to California and has since worked in landscape design in southern and northern California. She has a wide range of project experience from multi-unit housing, streetscapes, parks, commercial and residential landscapes. Elyssia is knowledgeable in irrigation design and is passionate about horticulture and landscape design sustainability. She enjoys working in all phases of the design process from concept to construction completion.
Executive Assistant
Ophelia Mationg
Ophelia moved to Guam from the Phillipines at a very early age. She holds a B.A. in Accounting from the University of Guam. Right after graduation, she moved to California to join her parents and siblings. Ophelia works closely with Jarrod to ensure deadlines are met. She has vast experience in all facts of Accounting, including billing, financial forecasting/budgeting, payroll and tax preparation. Ophelia resides in Daly City with her husband Alex.
Landscape Designer
Ryan Burger
As a Sonoma County native, Ryan has always considered the Bay Area a very special and unique place. With 4 years of experience in high end residential design-build in Sonoma and Berkeley, he has developed a great understanding for the aesthetics of the area and the construction process. Ryan earned his Bachelor of Landscape Architecture from Cal Poly, San Luis Obispo where he developed a passion for planting design as well as spatial organization. He enjoys everything from conceptual design and 3D modeling to design development and project management.
Landscape Designer
Tucker Kirby
Tucker has several years of experience working on high-end residential landscape projects on the East Coast. A Landscape Architecture grad from the University of Rhode Island, he moved to the Bay Area soon after graduating, having fallen in love with the diversity of beautiful landscapes that Northern California has to offer. In addition to extensive knowledge of plants and a background in landscape construction, Tucker also has experience in 3D modelling, helping clients to get the most out of the design process.
Executive Assistant / Director of Marketing
Kimberly Childers
With over 30 years of production management experience in the newspaper and magazine publishing industry, Kimberly's ability to manage a wide range of tasks has exposed her to a variety of professional experiences. Now, focusing on new business development, Kimberly is excited to be a part of an organization that is setting the bar in forward-thinking, premier landscape design. As well as being an administrative support member for the executive team, Kimberly influences Zeterre's business growth through social media promotion, overseeing the website and its traffic, and designing new portfolios and various other marketing materials.
Sukey Forbes started her polo career in 2006, but spent summers riding at her family's island, Naushon. Her great uncle, William Forbes, wrote the book "As to polo" and brought polo to the Philippines. Sukey brings great a refined and feminine perspective to private polo estates as well as an out of the box thinking from her exposure and world travel. Her team, Mother Chukkers, recently won their final match at Empire Polo Club (April 2018).
Consultant
Ignacio Deltour
Ignacio Deltour hales from grand old Argentina. Trenque Lauquen, the family ranch and breeding facility, is an excellent example of functional and aesthetically driven equestrian facilities. Jarrod has trained with him and brings him onto our projects as a consultant from a foregoaler perspective.
Consultant
Jec Aristotle Ballou
Jec's background is as an accomplished writer, dressage trainer for western and classical dressage. Jec has worked at some of the greatest dressage facilities in the United States and has a very creative eye. Her work in physical conditioning of horses has lead to her speaking in clinics thoughtout the U.S. - as well as taking a yearly trip to the Spain to ride in portugal.
Residences & Estates by ZLA
Contact Us
Created to optimize the equestrian experience for all involved, Equus Nobilis is under the direction of award-winning Landscape Architect Jarrod Ryan Baumann.
Our Office
1171 Folsom Street
San Francisco, CA 94103
(415) 200-0638